Original KELVINATOR Air Conditioner Remote Control 203355091126 KSV26CRB
Original KELVINATOR AIR CONDITIONER REMOTE CONTROL 203355091126 now substituted to ACC050

Number on Remote Control: ACC050, which replace RG03A/BGCEF-ELBR and 203355091126 that are now no longer available from KELVINATOR.
Suitable for Kelvinator Models: KSE70CRB, KSV26CRB.
The KELVINATOR model number is usually on the back of your KELVINATOR product, or on the front of your user manual.
This remote control is an Original Remote Control from KELVINATOR.
Please note that the original KELVINATOR 203355091126 remote control is no longer available from KELVINATOR and that we are supplying the original KELVINATOR ACC050 as a substitute recommanded by KELVINATOR.
The original KELVINATOR remote control ACC050 (pictured below) does need to be programmed. It is an easy four step process.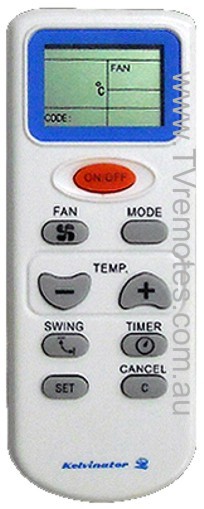 *Requires 2 x AAA Batteries*